Using everything from virtual and augmented reality to robotics engineering, local industry leaders say they are working to drive a technological revolution. 
Several startup companies and tech leaders are hoping to join the "Silicon Prairie" surrounding Iowa, Missouri and Kansas, where Midwest entrepreneurs are banking on the cash crop of technology. And as more tech advancements are announced in the Q-C — last week brought the announcements of an esports gaming center and new virtual reality equipment at Exelon — local industries hope to lead the high-tech movement.
"Innovation is vital for economic growth because not only does it improve the value and competitiveness of existing companies and products, but it can also lead to the creation of new business and industry," Chief Economic Development Officer Liz Murray Tallman, with the Quad-Cities Chamber of Commerce, said. "Throughout history, communities that value innovation … are the ones that adapt to and succeed in an ever-changing world."
While dozens of companies are utilizing some of the latest technology across the region, here's are some of the most high-tech businesses and organizations across the Q-C.
EON Reality: Virtual and augmented reality
EON Reality, a world leader in virtual and augmented reality technology, chose Eastern Iowa Community Colleges and Davenport as home for its innovation academy. Along with college students working on augmented reality design and engineering, EON offers VR and AR tools for companies across the world.
A large portion of what the company offers, according to programmer Rob Gillespie, is workforce training through VR and AR programs. A Virtual Trainer program allows up to 16 users to train for real-world scenarios without safety risks.
For mobile devices, EON offers Creator AVR, a portable AR and VR education tool, where users can unpack lesson plans and access 3D models through augmented reality. Project Manager Josh Webb said by placing his business card on a desk, he can open an app and view several 3D models, which appear to pop out of the physical card.
"This unlocks the educational potential of AR technology by bringing it to the fingerprints of anyone with a phone or tablet at their disposal," Gillespie said. "These are the fruits born from the toil and talent of a company that has been innovating in the sphere of AR and VR for over 20 years, working on the bleeding edge of the technological revolution that will soon transform the way the world learns, labors and lives."
Deere & Co: Artificial intelligence
When Deere & Co acquired Blue River Technology last year, a company developing real-time autonomous agricultural robots, it spearheaded introducing full stack Artificial intelligence to the ag industry.
"(It's) a California company that has developed technology to recognize the difference between healthy plants and field weeds, spraying only the weeds instead of entire fields and thereby reducing the use of herbicides and optimizing the use of inputs in farming — a key objective of precision agriculture," Deere Spokesman Ken Golden said.
In the Quad-Cities, Golden said combines made in East Moline are guided by GPS technology and use sensors to gather information about the crops they are harvesting. High-speed seeding equipment made in Moline improves crop yields. And machinery built in Davenport uses telematics to report machine health and maintenance, Golden said.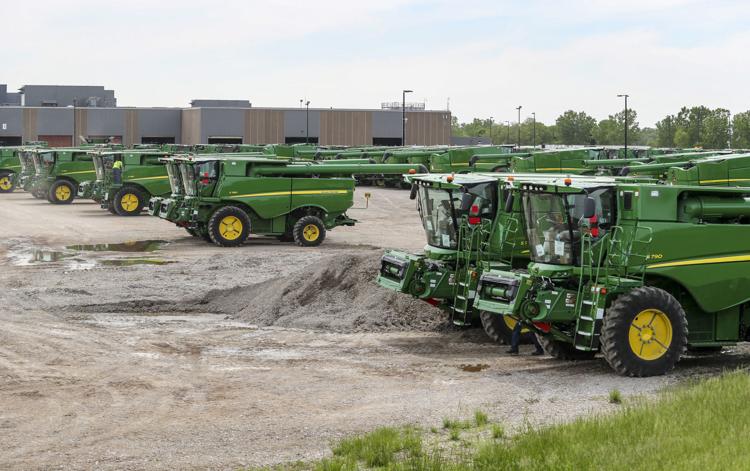 Genesis Health System: Robotic surgeries
In 2011, the Genesis Health System team performed 52 procedures through its new robotic surgery system. So far this year, the health system has done 573 robotic surgeries, according to Spokesman Craig Cooper.
He said the robotic surgical system, using daVinci XI, has been growing each year and now includes 18 trained physicians. Robotic systems can be used for urological procedures, general surgeries, as well as women's health surgeries. Cooper said the robotic surgical system is the most advanced in the region.
He added benefits to patients typically include a shorter hospital stay, less blood loss, fewer complications, less need for pain medications, a faster recovery and smaller incisions.
VictoryVR: Virtual reality for education
A two-year old Quad-City startup, VictoryVR has brought virtual reality education curriculum to students and organizations across the world, according to CEO Steve Grubbs. By putting on a headset, he said students will be transported to a new world and work on projects in real-time.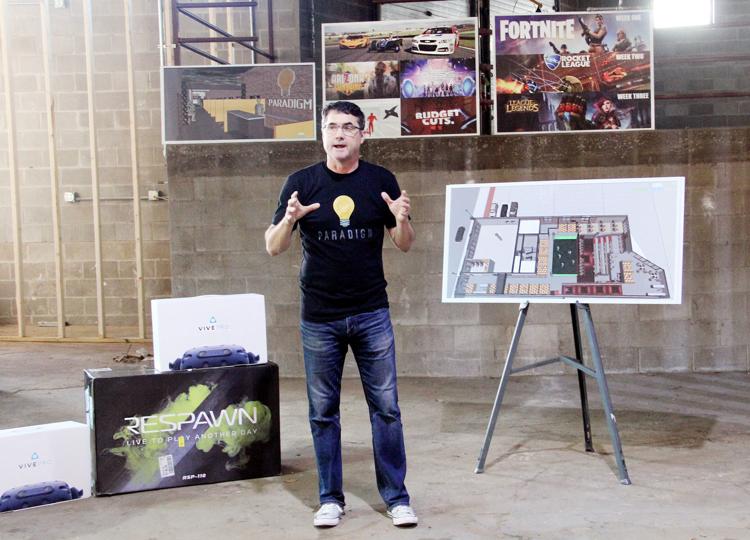 "Imagine you're learning about engineering design, and you can learn that conceptually from a book, or you can stand on the Great Wall of China and see how engineering design was actually created," Grubbs said.
He said the technology was first introduced in Davenport and is now distributed across the world. Last week, Grubbs launched Paradigm, a virtual reality esports gaming center to open this summer in downtown Davenport.
Kone: 'Smart buildings'
Patrick O'Connell, with Kone, said the escalator and elevator manufacturing company is a global leader in creating today's "smart buildings." He said interactive design tools and 3, 4 and 5D modeling technology has allowed companies to build some of the most innovative buildings across the world.
Kone, with operations in the Q-C, is also using service delivery robots and data security software. He said last year, Kone partnered with IBM and is now using Watson technology to connect thousands of elevators across the globe to the cloud.
"Through artificial intelligence, the Internet of Things and big data, the company will transform the way elevator and escalators are serviced — moving from reactive to predictive, before outages occur," he said.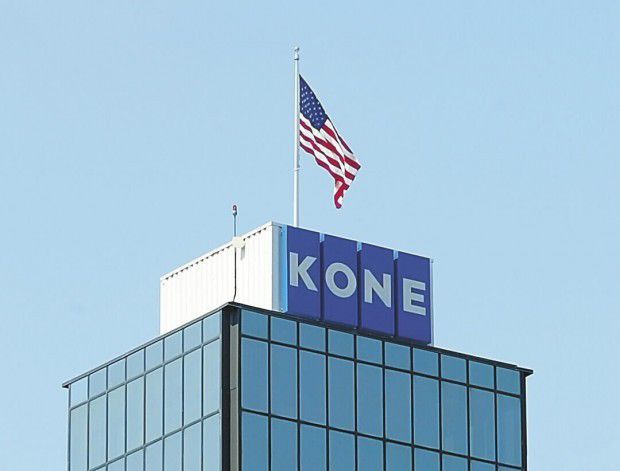 Quad-City Manufacturing Lab: Additive manufacturing
The Quad-City Manufacturing Lab, a non-profit located on the Rock Island Arsenal and staffed through Western Illinois University, is on the forefront of additive manufacturing technology, according to Interim Lab Director Eric Faierson.
He said the lab is one of the only regional organizations using 3D metal printing and additive manufacturing. Along with speeding up the process, he said 3D printing uses fewer and lighter weight materials. Right now, the lab is fabricating small-scale armored panel designs for army research labs.
Genesis Systems Group: Immersive virtual reality
Genesis Systems Group in Davenport, which specializes in robotics for welding and manufacturing, has implemented new virtual reality technology, a VR headset, as well as a VR immersive screen, according to Director of Advanced Engineering Justan Each.
"Genesis is the only one in the industry that we know of that utilizes the immersive technology which allows a group of people to put on 3D glasses and view a large screen in the immersive state," he said. "I believe the technology is going to be drastically different in five years. Virtual technology and the Industrial Internet of Things are all about delivering data. Getting the right information to the right person as quick as we can helps business leaders access information to increase productivity."
Arconic: 'Smart manufacturing'
Last week, Arconic announced it will provide aluminum for the new 2018 Jeep Wrangler, and spokesman John Riches said some of the materials will be developed at Davenport Works. The aluminum will allow the Jeep to shed 75 pounds from the previous model, and is one of the latest examples of Arconic's "smart manufacturing."
Riches said Arconic is using scanners to track aluminum products and imprint a "digital thread," so customers can trace any issues back to the source. Also, Davenport Works is retrofitting equipment with sensors, to detect issues before humans could identify them.
"Similar to how vehicles can monitor the road and automatically stop before an accident occurs, our machines can detect issues before the equipment or the product is damaged," he said. 
HNI Corporation: 3D printing
At HNI Corporation in Muscatine, 3D printing has flipped manufacturing on its head, according to Spokesman Gary Carlson. By 3D printing a variety of materials, he said manufacturing, design and maintenance has been streamlined.
"We used to make a lot of wood models and people would carve those. Now making changes is much easier and making adjustments is that much faster," Carlson said. "And we're going to continue to look at all emerging technologies, as the technology is changing in manufacturing and robotics and all of those fields very rapidly."