A group of New Castle High School students in the STEAM program developed a basin made by recycling plastic pop bottles that could keep drinks cold for hours.
An 11th-grader on the high school robotics team already has a design on his computer to build a robot for the international level of next year's competition with students from worldwide.
Two other 11th graders explained how he is making an athletic shoe design on a 3-dimensional printer, with snap-on soles so athletes don't need to buy multiple pairs of shoes.
Junior high school students explained the science behind a tropical rain forest, pre-schoolers demonstrated their new knowledge of how certain chemicals interact and how to mix food coloring to create primary colors. Students in grades kindergarten through 2 were demonstrating coding and how a computer can be used to move a robot and make it say different things.
All of these activities and experiments and many more, involving students of all grade levels, were going on in the hallways and classrooms at New Castle High School Thursday as the New Castle Area School District presented its annual STEAM Showcase.
Hundreds of interested parents and faculty members clogged the hallways and gathered around tables in the classroom, marveling with fascination as students explained their projects in detail, eager to show off their knowledge.
The open house is an annual event to show how the combination of science, technology, engineering, arts and mathematics can create new learning concepts and lead students into the technological world of the 21st Century. And each year, the projects and experiments become more complex.
"One of the things you were able to see here was the cohesiveness of STEAM, from pre-K to 12th grade," explained Emily C. Sanders, the district's director of assessment, data and technology, who helps to oversee the STEAM program and the open house. "It's a nice snapshot of how we're building on the concepts from K through 12."
Sanders has been working with the faculty and administration to secure funding for the STEAM program, which at New Castle has been held in high regard up against other school districts in Western Pennsylvania.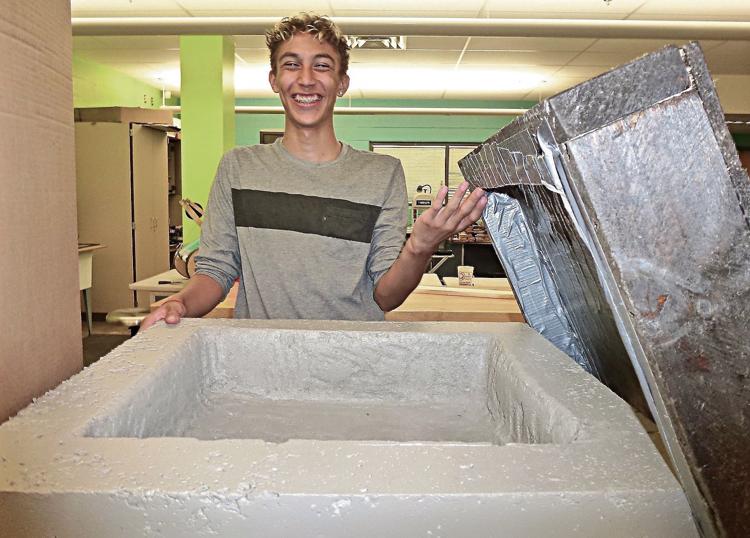 The district launched its STEAM initiative in 2015 with a $20,000 grant. Sanders said that altogether for this year alone, she has overseen the acquisition of $45,000 in grants and scholarships, donations and sponsors for technology, STEAM and professional development.
She added that the district is applying for a grant for on-site recycling, with hopes of partnering with the Lawrence County Recycling and Solid Waste department.
Recently, a Pittsburgh area newsletter called "Kidsburgh" published an article called, "What other schools can learn from New Castle School District." It describes how the district converted a former storage area of the junior-senior high basement into five highly-technological classrooms for its STEAM workshop and labs.
Each year the district is seeing more projects that require the students to develop critical thinking and problem solving, Sanders said. She noted that this was the third year for the STEAM Showcase, demonstrating the complexity of the projects and the depth of how the students have grown in the program.
"We have kids here teaching other kids and showing parents," she said. "These are things we're doing as a district and about what comes next in life. These are skills you're not seeing on the state assessment tests. These are skills they'll have in life, and you can't measure those that way."
"We're opening their eyes up to what will be the careers of the future, in coding, artificial and machine intelligence, robotics, engineering, virtual reality and computer programming," she said. "We're preparing them for these types of jobs."
Sanders pointed out that many New Castle students are gravitating toward the robotics program, which this year — only in its second year of competition — qualified for the state and ultimately the world competition levels. Only 7 percent of all Vex Robotics teams make it to the world competition, she said.
Here is a closer look at some other aspects of STEAM in the district:
PLASTICS RECYCLING
Matt Dado, the district's engineering design and development teacher, is a leading teacher in the district's STEAM program. He oversaw an 11th-grade classroom experiment that evolved into the patio drink cooler idea by recycling plastic bottles.
This year's juniors were researching patents and creating prototypes, Dado said, and they learned that New Castle High School students and teachers discard 10,000 plastic pop and water bottles in a year.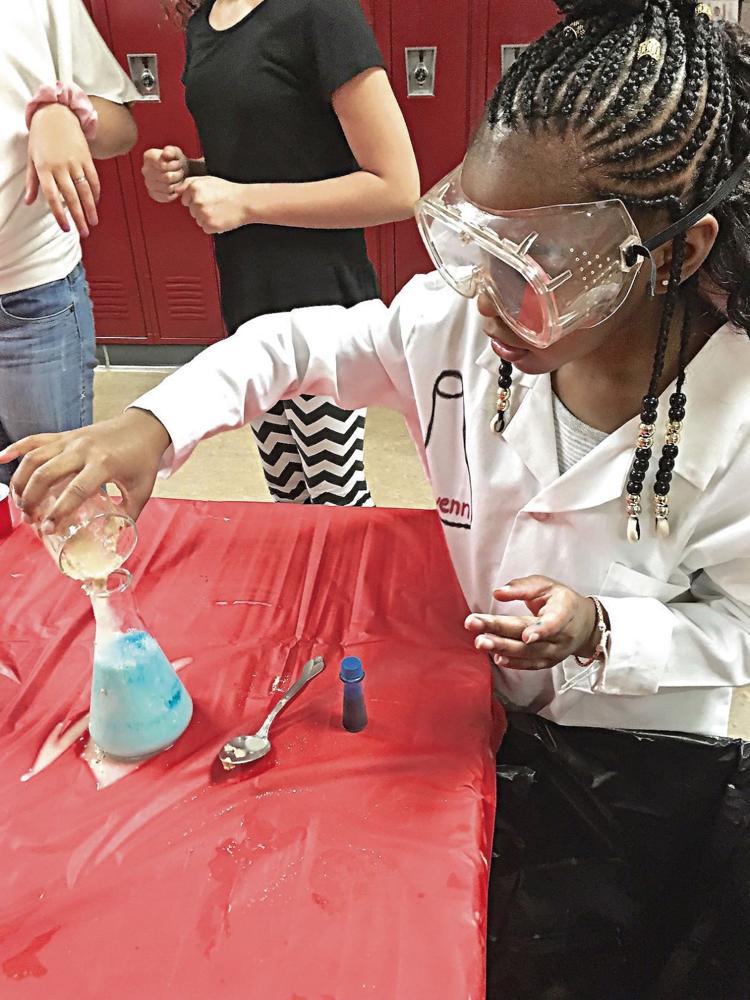 "After doing the math, it's like enough to fill a tractor trailer," he said. Noting that ordinarily only about 20 percent of plastic bottles are recycled, three 11th-grade students — Dangelo Patxot, Marc Sloan and Demetri Ruby — set out to provide a reuse for the plastic to benefit the community.
They started by converting a paper shredder into a bottle shredder and made small chunks of plastic. Then they used a mold and extrude injected the plastic into it, submerge it into cement. Through various trials, they worked with the textures of the pastic and cement in a block formation, and the final product was one they thought could be used in gardens or as landscaping blocks, Dado said. Then they realized it also has an insulating characteristic. So they made a test mold of a tub and found that it kept things cold for an hour or two.
When they filled the basin with ice and insulated the top, the ice remained solid for about eight hours and didn't melt, he said.
The end result was a basin that the students imagined could be left outside as a cooler on people's decks to hold drinks during summertime picnics.
"That was their project, and the final result," Dado said. "They went through the whole entire process through various research studies about plastics and cement."
He noted that a week before they came up with the end result, the Massachusetts Institute of Technology actually started shredding up plastic and putting it into cement.
"So we're onto something," he said.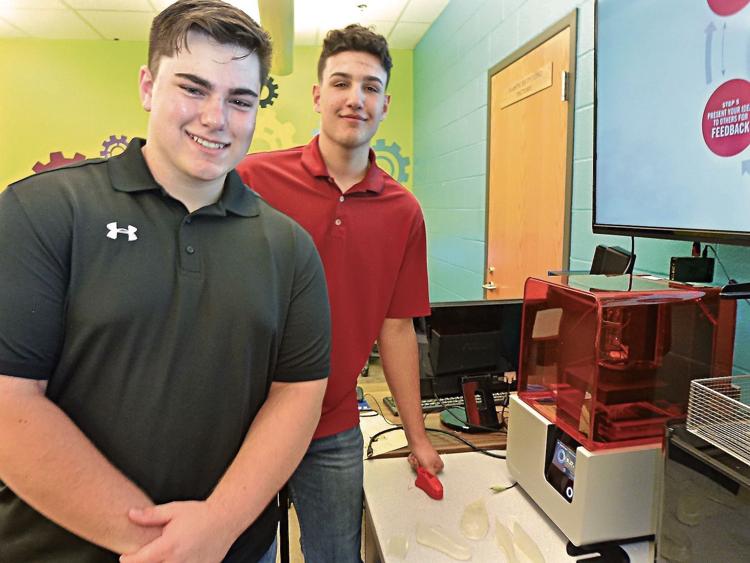 3D PRINTING
In another classroom, Nicholas Papa and J.T. Micco, both 11th graders, demonstrated how they made a snap-on athletic shoe prototype on a 3-D printer.
Papa explained that they looked for an idea all year, and they came up with the idea for a new type of conversion shoe.
"Instead of buying shoes with a bunch of different soles for multi-sport athletes, we just made one shoe and you could put different soles on it," Papa said.
So if you're a basketball or baseball player, runner, or golfer, the wearer can use different soles for the different sports, Micco added.
"Our goal was to save money for people," Papa said, remembering that as he grew up and participated in different sports, his parents would have to buy special shoes for each one.
Picking up a red prototype that was created on the printer, he demonstrated how the different soles can snap onto it. A male and female part keeps the sole from shifting from side to side, he said.